Media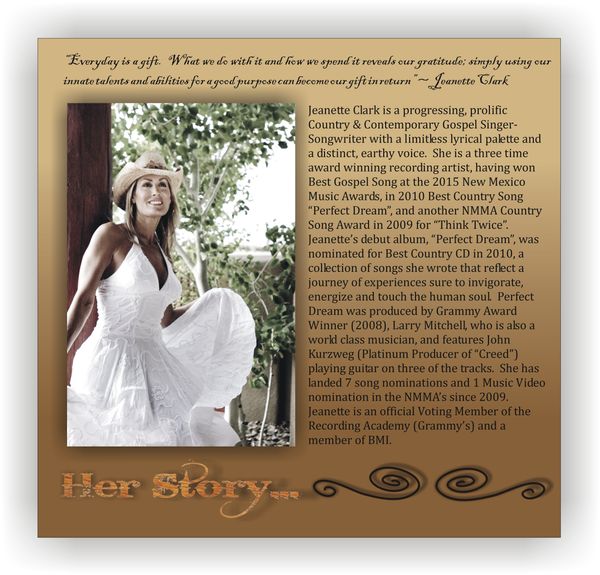 Singer-Songwriter Jeanette Clark

, has been creatively crooning, writing songs and entertaining since she was a kid. She has since developed her earthy vocals and writing style and gives Country & Contemporary Gospel a modern, yet organic touch.  Born and raised in beautiful San Diego, California, and now living just outside of enchanting Santa Fe, New Mexico for over 30 years, Jeanette has captured many of her experiences from both the high country and the ocean to develop a refreshing sound.  The music swoons and blows gently like a summer wind, while her vivacious, fun-loving personality shines through with passion, playfulness and purpose.

Jeanette's fervor and interest in music, theater, dance, as well as her entrepreneur spirit have been a significant part of her life since she was a child. "I remember hosting garage shows and providing musical theater in a variety show format, writing the songs, scripts, etc., and bribing my brothers and sisters with candy to perform with me. My Mom still reminds me about those shows, in which the musty garage was converted into a huge show stage, using an old beat up score board tossed in the trash at the local elementary school. My garage was jammed packed every Saturday with folks of all ages, who came just to have some down-home, enjoyable entertainment and fun. They laughed even at the stuff that wasn't supposed to be funny". That is of course because Jeanette has an animated slapstick sense of humor which brings out the lighter side of life.

"I have always loved Country music because it tells the whole juicy story and leaves you salivating for more, and on the flip side, Mom had us in church every Sunday where we sang the old gospel hymns with conviction...one minute I was singing songs about complicated reality of life, and the next minute I was singing songs about redemption and hope...it made sense to me though; after all, there is only 1 degree difference between hot water and steam".  Her country roots and influences go way back to when she was a child growing up on several military bases listening to greats such as Patsy Cline, Lynn Anderson, Dolly Parton, Charlie Pride, Johnny Cash and Elvis Presley, (thanks to Mom). In the diverse streets of the neighborhoods where she grew up in Southern California, she heard the echoes of Rock, Pop and Soulful rhythms, fused them with her beloved Country Classics, blended them with 70's, 80's & 90's country icons like Linda Ronstadt, The Eagles and Wynonna Judd, and mingled them with the Country Pop vibe of Shania Twain, LeAnn Rimes and others, ultimately developing a sound that shaped her eclectic, innovative Country sound. 

Jeanette likens her songwriting experiences to the process of conception and birth…"Every one of my songs comes into being in its own unique way, but they all begin with passion; they have different gestation periods and trigger different emotions throughout their development. Some come easy and some are more difficult to get out; some never make it, some are still born, some have imperfections, and yet some thrive with excellence. They each look different, sound different and feel different, but I am proud of them, love them, and try my best to raise them with success in mind, believing that each one has a special purpose".

"Perfect Dream" perfectly describes Jeanette's life in recent months, even though she had many years of disappointment, combined with a tragic circumstance which left her completely broken and uncertain of any career in the music industry, until now. Just after she finished her first demo of original works in 1994, her dream of pitching her demo in Nashville and pursuing her music endeavor as a Singer-Songwriter was dashed when she received the news that her young husband was diagnosed with cancer and passed away one year later. He was buried on Christmas Eve, and Christmas Day, as she observed her children opening gifts from a loving father they would never see again on this earth, she was shaken to the core of her existence with the reality of the overwhelming loss, widowhood, and having to raise two small children on her own. Pursuing a music career was out of the question at that point, virtually fading from her vocabulary after this tragedy struck...but while grieving, she continued to write. 

The years following the death of her husband proved her resilience, refining and defining who she was as a woman, mother and a Songwriter. "I have come to respect that every day is truly a gift and should be opened with love and appreciation", says Jeanette, and she beautifully expresses this revelation in the song "A New Beginning" off the new album. The experience was life-altering and tremendously challenging, however, it was through her grieving and healing process that numerous songs were conceived and birthed from the brokenness and heartbreak she experienced. "Surprisingly enough, many of the songs that came forth from this experience were uplifting and inspiring…I think it was because I was so focused on the wonderful and enjoyable memories I had with him and not just the loss. Imparting a sense of hope in my song-writing is healthy for my children and keeps his memory alive. I try to find the good stuff hidden in the tests and lessons of life; hence, a new song is born, and I can now provide some relief for someone going through similar experiences".

"Back in Santa Fe" was written by Jeanette about a place of beauty, tradition, joyful and sorrowful memories and a solid family which paints an exquisite landscape of Santa Fe, New Mexico. Jeanette has come to know intimately deep love and loss throughout her life, but the gift of each song and the power they have to heal, restore and uplift makes her complete. "Happiness is a choice, and sometimes a very difficult one to make, but once you make it, you give yourself permission to be free", says Jeanette. The song "Walk On" off the album is about the struggle between fear and courage, and happens to be the first song Jeanette wrote after her husband passed. "I love applying the dichotomy of strength and vulnerability to my songs…it makes it interesting when relenting becomes powerful, and power reveals weakness. My songs are transparent and reflect genuine experiences which undeniably build a connection with the listener. It's my job and ambition to keep my songs real and engaging; I write from the marrow of my soul and spirit in order to create and nurture a sincere relationship with people and keep them coming back for more".

"I am living proof that dreams don't have an expiration date..."

In light of Jeanette's recent successes, all of her profound life experiences and the long wait were necessary preparation for such a time as this. "I started out humbly with little means, few resources and no one was beating down my door with a record deal, but what I did have was a million dollars worth of determination and the blessing and support of my children.  I have discovered that it's not what you have, it's what you do with what you have that makes the difference".  Jeanette has incorporated her organizational and business skills with her talent to bring her music to the world, and in her re-discovery she inspires others to chase their dreams, love deep, laugh a lot and live to the fullest with no regrets. "It all feels so natural but I am convinced there is something very supernatural about what has happened to me in a short period of time". Jeanette loves to talk about the fascinating stories behind her experiences, and sings each song with fervor and excitement as if it were the first time. Keeping it fresh, exciting and new is her forte and she lives by the adage, "Dreams are Ageless". Jeanette Clark is full of charisma and ready to turn life up a notch as she embarks on this great adventure with energy and momentum. Songwriting and singing are her passion and bring her joy in life; sharing it with you has always been her long awaited dream....